11 Jul

Creating Something Brilliant This Summer with Aveda Color!

Creating Something Brilliant This Sumer with Aveda Hair Color!

By Mary Rolling

The Beginning of Summer is the best place to start; when the Athena Salon Team came together to create something brilliant for our Collection, we were inspired by the Summer Solstice June 21, 2017.

We started on our research, gathering information from different sources, articles, newsletters, and images. From this: we created a storyboard featuring statements from hair color artists throughout our industry; articles to support our research and images that aligned with the looks we wanted to create.
Summer Solstice
"The Summer Solstice brings not only the longest day of the year, but also the longest period of morning and evening twilight. The shallow angle at which the sun crosses the horizon keeps the sky illuminated  bit longer before sunrise and after sunset."
"For sunlight, we can distinguish the following light phases depending on the elevation of the sun: golden hour, blue hour, twilights, daytime and nighttime."
Hair Color
The Athena Team chose the Bayalage hair-color technique for Rachel Kelly, a combination of brown and honey-blonde hues cascading down her textured long hair.
This popular technique is here to stay, and developed for all woman, any age.
The Bayalage hair color technique & finished style was performed by Millie, our Pure Talent Stylist. Following the Bayalage, Rachel Kelly's hair was rough dried and then applied with the Aveda Smooth Infusion Style-Prep Smoother  for a blown-out sleek look. To complete the style, a flat iron was used for loose beach waves and then set with Light Elements Smoothing Fluid & Air Control to create a soft hold.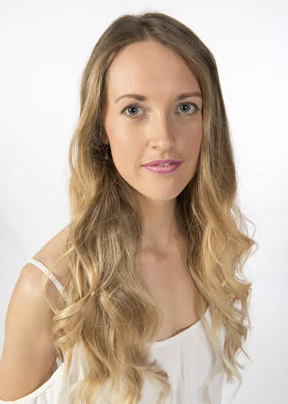 Eyes
Our Master Stylist Sarah chose Petal Essence Single Eye Color: Night Silk  from the Spring/Summer Solstice Bloom Collection, and then blended it upwards into Petal Essence Single Eye Color: Rare Lily  to create a soft-eye, so that the ombre lip-color  would be the center of attention.
Lips
Sarah used an Aveda lip brush to outline the lips with Nourish-Mint Smoothing Lip Color: Pink Zinnia, followed by an application of  Nourish-Mint Smoothing Lip Color: Pink Stone to the center. Using the Aveda Lip Brush, Sarah feathered the colors together to blend, giving the lips a similar Ombre effect. She then applied a dab of  Nourish-Mint Rehydrating Lip Glaze: Sheer Flamingo  in there center to add a little shine.
"By now we know Balayage, a freehand hair-dying technique, is a favorite of celebs and a great way to get natural-looking highlights. As we head into summer, we can't help but think that this technique is the ideal way to style your strands for the season. Why? Well, the 'dos look like they just came from a sunny beach, AKA exactly where we want to be."
"Highlights rooted in the natural color you were either born with, or just the inspiration from a baby you know (they have the best natural color, don't they?); This coloring technique steps-up lived-in, natural color."
Hair Color
Our Master Stylist Mary created & performed the Hair Color Application. Rachel Hope, being a natural dark brown but wanting to make an expressive statement! After pre-lightening, Mary chose brilliant tones of blues resembling the Evening Twilight of the sky, one of the most expressive hair color trends for this summer.
Rachel Hope's finished style was accomplished by Mary using the Aveda Smooth Infusion Style-Prep Smoother  & the Smooth Infusion Texturizing Creme.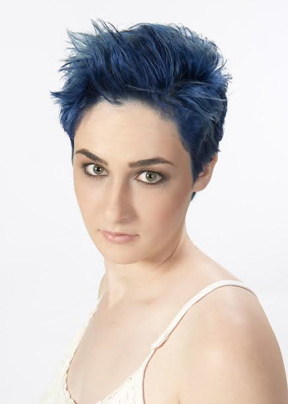 Eyes
With the emphasis on the eyes, Millie applied Petal Essence Single-Eye Color: Sun Pebble  at Rachel Hope's lash line and then applied Petal Essence Single-Eye Color: Rare Lily to the corners of the eye and just below the brow bones.
Lips
Millie applied Nourish-Mint Smoothing Lip Color: Coral Sands for a soft lip.
"The Trend towards vibrant color isn't winding down, so indulge in glossy vivid hues like (such as) blues and every other color under the rainbow. Blend in subtle shades of highlights and low lights for a look that's customized to your tastes."
Comments
comments